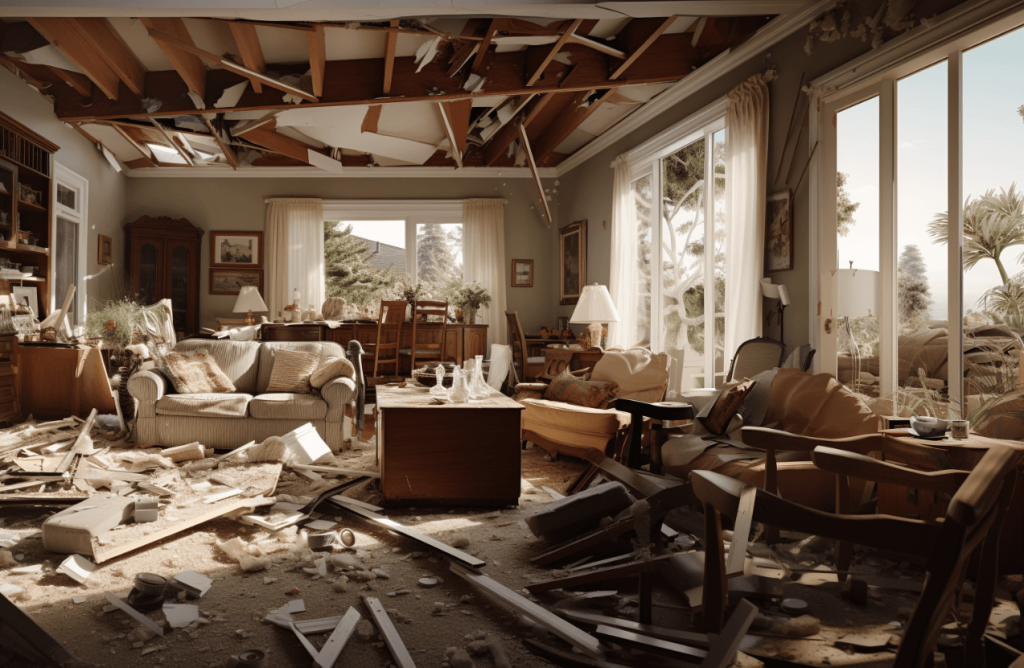 LET HOME DAMAGE ADJUSTERS HELP YOU.
Plumbing Leaks, Appliances Water Damages . Roof leaks, Mold, and Water Damage are some of the most common insurance claims.
LICENSED PUBLIC ADJUSTER
RUBEN CALAS A038137
FREE HOME INSPECTIONS ON YOUR DAMAGES
NO RECOVERY, NO FEE
Representing Client's on Insurance Home Damage Claims.

CALL US TODAY FOR A FREE HOME DAMAGE INSPECTION 888-443-9023
Free Home Damage Consultation
What is a home damage adjuster?
A home damage adjuster is an insurance professional who investigates and evaluates property damage claims on homes. When you file an insurance claim for home damage like fire, water leaks, storm damage, etc., your insurance company will send out an adjuster to inspect the property, document the damage, and estimate the cost of repairs. The adjuster's assessment is crucial in determining the amount of money you will receive to cover repairs and property loss from the damage.
There are a few different types of adjusters that may be involved with a home damage insurance claim. Some work directly for insurance companies and are called company adjusters. Others are independent adjusters who inspect claims for various insurance firms. Public adjusters are licensed professionals who work for the policyholder to help document damages and negotiate claims. Hiring a reputable public adjuster is advisable if you want an adjuster solely looking out for your best interests.
No matter what type of home damage adjuster is assigned to your claim, it is important to understand their role in assessing your property, determining repair estimates, and influencing the claim settlement offer. Knowing what to expect from a home damage adjuster can help ensure you receive a complete and fair insurance settlement.
How do home damage adjusters assess property damage?
When an adjuster comes out to inspect home damage, there are a few key things they will do to assess the property and create a damage estimate:
Thoroughly inspect all affected areas of the home. They will look at external and internal damage, including the roof, walls, floors, ceilings, plumbing, electrical systems, appliances, and more. The adjuster identifies what is damaged and notes the extent of the damage.

Take numerous photographs and videos documenting the damage. These visual records are important for estimating repair costs and validating the damage claim.

Interview the homeowner. The adjuster may ask questions about when/how the damage occurred and if you have made any temporary repairs. Your answers help the adjuster determine the scope of damage.

Identify repairs needed based on the insurer's guidelines. For example, they evaluate whether it is more cost-effective to repair or completely replace items.

Use claims estimating software to calculate repair costs. Most home adjusters use industry software like Xactimate to estimate the cost of repairs based on local rates for materials, equipment, and labor.

Determine additional living expenses (ALE) if the home is uninhabitable. The insurance policy may cover hotel costs, food, and other expenses while you are displaced from the home.

Assess whether the damage triggers code upgrades. If repairs require bringing things like plumbing and electrics up to current building codes, that adds to the scope and cost of repairs.
The adjuster compiles all this information into a detailed damage estimate report that is used to make the initial claim settlement offer.
What should I expect when a home damage adjuster visits?
When an insurance adjuster comes to inspect damaged property, you can expect the process to go something like this:
Initial meeting. The adjuster will introduce themselves, explain their role, and request to tour damaged areas of the home. They may also ask questions about what happened.

Damage inspection. The adjuster will thoroughly inspect all visibly damaged areas and identify needed repairs. This includes secondary damage that resulted from the initial incident, like water stains from a roof leak.

Photographing and documenting damages. As they inspect, the adjuster photographs damage and takes notes regarding repair needs. Some utilize apps to record damage details on a mobile device.

Interview. The adjuster may ask you questions to get details about what happened, what repairs have been done already, and if any personal property was lost or damaged. Be honest and thorough in your responses.

Follow-up visit. A second visit may be required for the adjuster to inspect areas like the roof or crawlspace that were not accessible initially.

Damage estimate report. After completing the inspection, the home damage adjuster will use the collected details to build a damage estimate and recommended payout amount.
Remember that the adjuster works for the insurance company, so remain calm but be assertive if you disagree with any of their assessment of damage. Do not sign any documents accepting a settlement offer at the time of inspection.
Should I get my own damage estimate?
In addition to the insurance adjuster's assessment, it can be very helpful to obtain your own independent damage estimates from reputable local contractors. There are a couple key reasons to get additional estimates:
Get cost estimates an insurance company may try to exclude. For instance, they may not account for bringing upgraded items like counters or cabinets up to current code. An independent estimate makes sure important repair costs are not overlooked.

Support appealing a low settlement offer. If the insurance company's offer seems too low, you need documentation to prove why a higher settlement is warranted. Multiple estimates strengthen your position if disputing a low settlement.

Choose your own trusted contractor. Rather than being forced to use a contractor approved by the insurance company, independent estimates allow you to pick a quality local contractor you are comfortable with.
When getting your own damage inspection and repair estimates, be sure to use experienced contractors familiar with insurance claims. Get at least two or three estimates for comparison.
How are insurance settlements determined?
Several key factors determine the amount an insurance company will offer in the initial claim settlement:
The adjuster's estimated cost of repairs. This is based on the scope of damage assessed and construction rates in your area. Their software calculates these estimates.

Actual cash value vs. replacement cost. Most policies pay actual cash value upfront, which is the depreciated value. You'll have to submit receipts to get full replacement cost.

Your deductible amount. Your deductible gets subtracted from the total damages estimate. For example, if you have a $1000 deductible, that gets deducted from your final settlement payment.

Policy limits and exclusions. Damage to certain items or over certain limits set by your policy may not be covered or have reduced coverage. This gets factored in.

Code upgrades. Upgrades to bring the property up to current building codes add expense that insurers may not fully cover.

Additional living expenses. Any costs of temporary accommodations while displaced from your home can be included.
Remember that the initial claim settlement offer is usually the lowest amount an insurer thinks it can pay, so be prepared to justify requesting a higher settlement if needed.
What if I disagree with the settlement offer?
It is not uncommon for a policyholder to receive a lowball initial claim settlement offer from the insurance company and home damage adjuster's assessment. If you feel the offer is unfairly low, here are some steps to take:
Communicate with your adjuster. Present any information or documentation you have that supports a higher settlement amount. Be firm but polite when negotiating.

Hire a public adjuster. They act as an advocate to reassess damage details and make sure you get properly compensated. Most charge a percentage of the settled claim amount.

Get a contractor's damage estimate. A detailed estimate from an experienced contractor can counter a low insurance adjustment.

Consult an insurance claims attorney. If the insurance company refuses to negotiate fairly, an attorney can help apply pressure and make sure your legal rights are protected.
With persistence and documentation, many low settlement offers can be successfully negotiated to a reasonable amount that more accurately reflects the extent of damage. Just don't simply accept an unsatisfactory offer.
How can I get the best possible settlement?
Here are some tips to help ensure you receive fair compensation for home damages:
Understand your insurance policy and coverage. Know what damage is covered, any limits that apply, and the claims process. This allows you to advocate for everything owed.

Thoroughly document damage with photos/videos. Capture even secondary damage that resulted from the initial incident. Complete documentation prevents underpayment.

Maintain good records of repair estimates, temporary housing expenses, and all claim-related correspondence. This supports negotiations.

Hire assistance for guidance. Getting advice from public adjusters, attorneys, or experienced contractors can be worthwhile if the claim is complex or settlement offer seems unfair.

Negotiate firmly and professionally. Be persistent in advocating for proper compensation, but avoid emotional outbursts or aggression when negotiating.
Taking these steps helps prevent underpayment on an insurance claim and enables you to get fair compensation for home damage. With large claims, it takes some work, but the right settlement covers real costs so your home gets properly repaired.
Summary Points
Home damage adjusters inspect property, estimate repair costs, and recommend settlement amounts for insurance claims.

Know what to expect when an adjuster visits your property to assess damage. Be thorough in providing details.

Consider getting independent damage estimates from contractors to support negotiating a sufficient settlement.

Settlement offers account for factors like repair estimates, deductibles, depreciation, and policy limitations.

Dispute low settlements through clear communication, objective documentation, hiring a public adjuster, and seeking legal counsel.

Understand your policy, document damage extensively, maintain good records, and negotiate professionally to achieve fair claim compensation.